Advanced Control Equipment -
Schmersal Safety Solutions

Schmersal is an industry-leading manufacturer of safety components such as safety interlocks, safety area mats, cord pulls, safety sensors, and light safety curtains.
Schmersal is a complete solution provider for total machine solutions. One of the original developers of keyed interlock devices for industry, Schmersal now offers coded safety sensors, light curtains with blue tooth, and safety PLCs.
Schmersal builds products with the customer in mind. These products are built to reduce downtime and ease diagnostics and installation.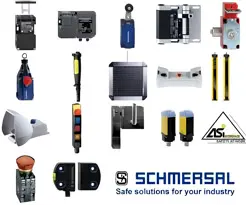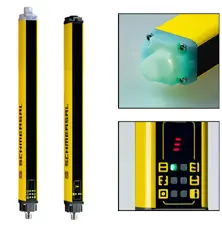 Schmersal, in the past, was a component and system solution provider and now can provide corporate training. These trainings can be held in person or remotely. Schmersal can help develop safe solutions for your company!
We are excited to announce we offer local Satech guarding stock! Satech is based out of Italy and specializes in perimeter guarding solutions.
Schmersal is the US provider for Satech. The Satech system can be designed to accommodate Schmersal switches. With Schmersal and Satech, we can help you design your robotic cell.
Reach out to us today to help you with your current or next project!